It's So Simple!
To become a Retail Affiliate,
select either of the plans below,
or both.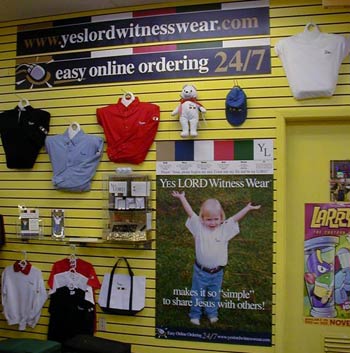 Plan A - This plan is similar to our Affiliate and Fundraiser Programs. There is no financial investment!

All you need to do is contact us and request to become a Retail Affiliate. CLICK HERE to apply online. Upon activation you will receive an e-mail from YES LORD World.com confirming your affiliate code and password.

Next

Next encourage your Customers to contact their friends, relatives, neighbors, business associates, etc., via email, letters, notifications, bulletins, announcements, word of mouth, etc., to go to the YES LORD World.Com Online Store via the link you give them.

Important
Make certain you furnish them with your Special Link to our online store, from your website, in your literature, e-mail, etc. This will automatically track their purchases from our store. You can obtain or copy this URL link with your code embedded in it in it after you receive your e-mail from YES LORD World.com confirming your Affiliate code and password activation. Just enter you code and password in the "SALES REP - ASSOCIATES - AFFILIATES - New Account Application Area or Existing Account - LOGIN". Once logged in, click on Link Information. In the first HTML code box, copy the code shown in between the " " quotation marks. Insert this in your literature or e-mail.

YES LORD World.com will then issue a check monthly to you for a percentage of all the items purchased under your unique code number. It's that simple! That's all you need to do!

We do all the rest! We process the order. It is shipped directly to the customer who made the purchase on your behalf, and you receive a check once a month based on purchases processed under you code number.
Under this plan you do not have to invest in any inventory. We can also supply you with a display similar to the above. (Call for display pricing)

Plan B - To apply e-mail us with your Store Name, Address, Phone Number, Contact Name, Owners Name. CLICK HERE to send e-mail for Plan B. If authorized you will receive a unique discount code from us via e-mail which will allow you to purchase inventory from our online store 24/7 for display and merchandise at your facility.

Plan C - Both plans. To Apply follow instructions for Plan A, and also e-mail us with your decision to participate in Plan C. In the e-mail include: Store Name, Address, Phone Number, Contact Name, Owners Name. CLICK HERE to send an e-mail for Plan C.
If you have questions contact us.